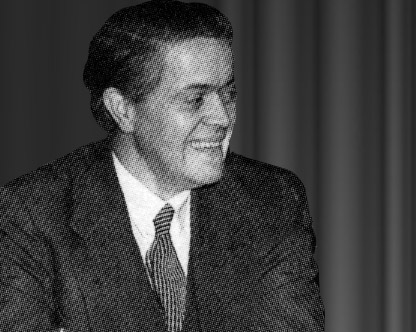 WR Rodgers
William Robert Rodgers, better known as 'W. R.' or 'Bertie', was born in Belfast in 1909. His family was puritan in outlook and, while this was restrictive in a number of ways, Rodgers would look back on his childhood with affection. He was educated at Ballymacarrett Elementary School and at Queen's University, Belfast where he took a degree in English (1931). On graduation he entered the Presbyterian Assembly College and was ordained as a Presbyterian minister in 1935, serving in the parish of Loughgall, Co. Armagh, where he became know as the 'Catholic Presbyterian'. He married Marie Harden Waddell, whom he had met at Queen's, in 1936. She was a doctor and came from a literary family – her uncle Samuel Waddell, writing as Rutherford Mayne, was a key figure in the Ulster Literary Theatre, while her aunt Helen Waddell was a distinguished medieval scholar and translator. Despite this, and his friendships with John Boyd and John Hewitt, Rodgers considered himself to have been schooled in a 'backwater of literature' until Hewitt introduced him to contemporary poetry. He became the 'most astonished host' of a 'wind of words'.
His first collection 'Awake! and Other Poems' appeared in 1941 and is marked by verbal exuberance and even excess, but it also expresses the desire to move further beyond the narrow confines of his present life which included marital problems. In 1941 he spent some time in Dublin, meeting writers such as John Betjeman, Austin Clarke and Frank O'Connor, and in 1943-1944 he took a leave of absence which he spent in Oxford writing for the BBC. 'Black North' published in the 'New Statesman' (1943) voiced serious criticisms of the Stormont government and its exploitation of sectarianism, again suggesting that Rodgers was distancing himself from his home place. Even so, when Louis MacNeice urged him in 1945 to join the BBC it took him a year to decide to resign from his ministry and move to London.
At the BBC he broadcast a number of significant programmes on Irish writers (the scripts were published as 'Irish Literary Portraits' in 1972). A second collection of poetry, 'Europa and the Bull' appeared in 1952, and in the same year he resigned from the BBC, though he continued to broadcast. The early 1950s was a significant period in Rodgers's personal life. His mother died in 1952, and the death of his first wife in 1953 was followed soon after by the death of his father. In the same year he married Marianne Helweg, the former wife of Laurence Gilliam, his (and Louis MacNeice's) boss in the BBC Features Department.
Later that year, Sam Hanna Bell, with whom Rodgers had already collaborated, suggested a programme on the theme of return which led to Rodgers's masterpiece. 'The Return Room' was broadcast in 1955. Its evocation of Belfast in the 1920s epitomizes what has been called the "Rodgers technique", a montage of speaking parts for multiple voices with music and soundscapes. The script, along with a CD of the original broadcast and commentaries by Douglas Carson and Paul Muldoon was published in 2010 by Blackstaff.
It is difficult to know whether this should be called a play, a poem or a documentary, but it is one of the most important literary texts to have emerged from Northern Ireland. Along with some of his other broadcasts, it also offsets the criticism of Rodgers that he wrote little of significance after 1952. Even so, there were few poems after this point and his famously unfulfilled collaboration with Louis MacNeice on the unpublished 'The Character of Ireland' reinforces the idea that he had difficulty with completing projects.
Michael Longley acknowledges Rodger's influence in his report on Northern writing for the Arts Council of Northern Ireland and the change in policy which led to more funding for writers in the 1970s. Longley went on to edit his 'Selected Poems' (1993). Rodgers was elected to the Irish Academy of Letters in 1951, and the Irish Arts Council awarded him an annuity in 1968. He spent the last years of his life as writer-in-residence at Pitzer College in Claremont, California, and the California State Technical College. He died in Los Angeles in 1969 and his ashes are interred at Loughgall.
EH