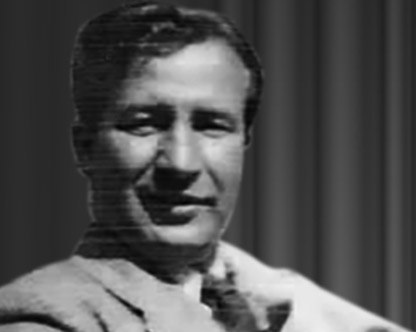 John Boyd
John Boyd was born in 1912 working-class east Belfast. His mother had problems with drink, but his father encouraged John's academic ambitions. He was educated on a scholarship at Royal Belfast Academical Institution, where he overcame the difficulties associated with his background and eventually won another scholarship which enabled him to attend Queen's University, Belfast.
The influence of an uncle and aunt, Willie and Ida Boyd, was also important to him as they introduced him to left-wing writing and to the theatre. The novels of Forrest Reid were another early inspiration, allowing him to think that a literary career was not impossible in Belfast.
After graduation from Queen's, Boyd worked at a variety of jobs, mostly in teaching, throughout the 1930s. He married Elizabeth McCune in 1939. By this time he was beginning to publish articles in the Irish Democrat and in 1943 he and Sam Hanna Bell established and edited Lagan with the aim of fostering a local literary culture. In 1946 he joined Bell as a producer at the BBC in Belfast, where he struggled, often successfully, to challenge the quietist conservatism of the institution and the resultant refusal to engage with the Irish dimension.
During his time with the BBC Boyd was responsible for 'The Arts in Ulster' (which he described in 1953 as 'the only criticism of any value we have here'), 'Your Questions' (in which a panel answered audience questions) and 'Ulster Commentaries' (which involved expert analysis of topical issues). He also produced a number of individual talks and short stories.
His circle of friendship was wide. By the mid-1940s he was a central figure in the cultural life of Belfast and the north alongside Bell, John Hewitt, and Roy McFadden, but he was also on good terms with W.R. Rodgers, Joseph Tomelty, Michael McLaverty, Frank O'Connor and St John Ervine. Boyd's own left-wing views are shared by many in this list for whom a key form of resistance to the Stormont regime was to promote a local culture and identity. But it is also evident from these names that Boyd's view of that culture was that it should be as inclusive as possible. This was also reflected in his choice of speakers, reviewers and panelists for his programmes. This careful and rigorous selection led to some significant publications: the two volumes of 'Ulster since 1800' (1954, 1957) edited by T.W. Moody and J.C. Beckett published 36 talks broadcast between 1954 and 1957 and covered the social, political and economic life of the north in a pioneering manner. The similarly innovative 'Belfast: the origin and growth of an industrial city' (1967) edited by J.C. Beckett and R.E. Glasscock was based on talks broadcast in 1967.
Boyd retired from the BBC in 1972 and began a second career as a writer. His ambitions as a dramatist can be traced back to the early 1950s, but were largely in abeyance while he worked for the BBC. In the 1970s the Lyric Theatre produced five plays by him including 'The Flats' (1971) which introduced many features that would become clichés of 'Troubles' theatre, and 'The Street' (1977) which recalled Boyd's own childhood.
His collected plays were published in two volumes in 1981 and 1982, though a number of other plays were produced during the 1980s. Even though his own writing was now taking precedence, Boyd continued his role as mentor and encourager of others through his editorship of the Lyric's journal 'Threshold' from 1971 and in his role as the theatre's literary adviser. Seamus Heaney and Stewart Parker can be counted among the beneficiaries of this stage of his career.
He also edited the poetry of his old friend for 'The Selected Roy McFadden' (1983). In the 1970s Boyd turned to autobiography with 'Out of My Class' (1985) and 'The Middle of My Journey' (1990). In these volumes he more than fulfilled his ambition that his plays 'may have left some rough record ... of how things seemed to me'. The first volume brilliantly evokes his early life and education, while the second is a valuable memoir of intellectual life in Belfast from the 1930s to the 1950s. Boyd died in 2002 and will be remembered as a key figure in the development of a literary culture in Northern Ireland.
EH
Collections